Ceramic coating provides a transparent layer of protection resistant to salt and other harsh substances. But is it possible to pressure wash ceramic coating? This article will examine the effects of pressure washing ceramic coating and whether or not it might harm the coating or the underlying paintwork. Let's explore this more with Love's Auto Detail in Kapolei, Hi.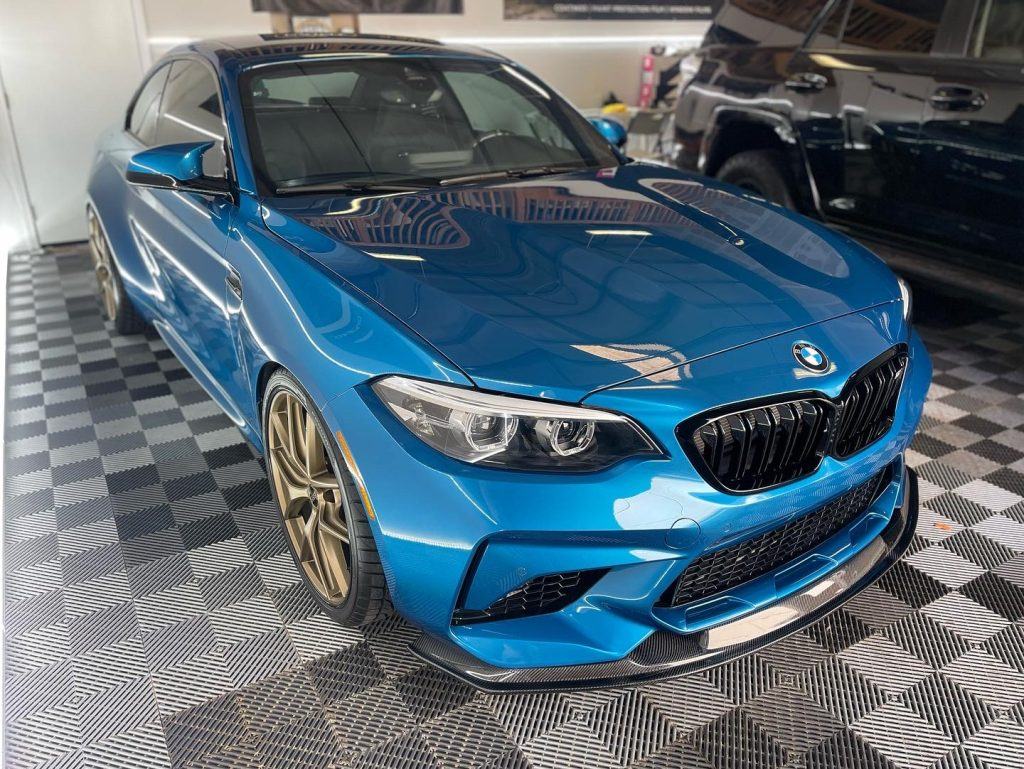 Will Pressure Washing Damage A Ceramic Coated Car?
It is safe to use a pressure washer on a vehicle with a ceramic coating. A pressure washer enables you to use the coating's self cleaning capability by eliminating the bulk of surface impurities without touching the coating.
Using a foam cannon with a pressure washer is also a significant advantage for two reasons. You put more soap on the vehicle, enhancing the surface's lubricity and minimizing the likelihood of surface scratching. A pre-wash is used to emulsify dirt which pulls it away from the paint before any damage appears..
Can We Take An Automobile With A Ceramic Coating To An Automatic Car Wash?
A ceramic-coated vehicle may be washed, but remember that not all car washes are the same. We avoid using automated car washes that use abrasive brushes to clean your vehicle. These abrasive brushes might harm your paint and finish.
Use A Superior Car Washing Method
Two Bucket Method
When we wash a vehicle with certain products we may encounter scratches, swirl marks and other negative results. Specialized microfiber materials are less prone to marring and scratching, but they are ineffective if they are dirty when used to wash a car. Dipping a wash mitt in unclean soapy water will make it dirty and thus not as effective when cleaning your car.
The two-bucket automobile washing technique was created to eliminate this typical issue. If inappropriate washing procedures are used on a newly coated car, swirl marks may still appear. Follow the following steps for best results:
Pre-Wash the vehicle: Spray the whole car with water to eliminate trash, grime, bird droppings, and other contaminants.

Soak your cleaning agents in the soap bucket. Soak your wash mitt or cloth well, then wash one portion or panel of your car.

After washing a panel, dip the wash mitt into the fresh water and brush it against the grit guard. It will clean the majority of any dirt.

Squeeze excess water from the wash medium before dipping it in the soap bucket. Rinse the last panel with clean water before beginning the next one to prevent soap from drying on the surface.
Rinseless Car Wash
Using a big pump sprayer, apply the rinseless solution, wipe the surface with a clean microfiber towel to remove dirt, and then use a second microfiber towel to dry the surface.
Touchless Car Wash
Touchless car washes are manually operated public car washes with high pressure hoses that spray the vehicle clean. The second form of touchless car wash is a drive through facility where high pressure water and soap are used to clean the car. The soaps used in these facilities are far from perfect and can cause issues for your vehicle. They are inexpensive, generic shampoos with a high pH or degreasing ingredients.
Ceramic Pro Ceramic Coating Packages At Love's Auto Detail In Kapolei, HI.
Love's Auto Detail in Kapolei, HI, offers high quality coatings from Ceramic Pro with multiple packages. Ceramic coating from Ceramic Pro will prolong the lifespan of your vehicle! Here are our packages that cover all you need for your car!
Ceramic Pro Gold

Ceramic Pro Silver

Ceramic Pro Bronze

Ceramic Pro Sport

Ceramic Pro Interior Package

Ceramic Pro Rain
Using the proper methods will prolong the lifespan of your ceramic coating and also resale the car's value! Ceramic coating at Love's Auto Detail in Kapolei, HI, is high quality coating from Ceramic Pro that protects your car's paint! Furthermore, we offer multiple ceramic coating packages that fulfill customers' needs! Make a ceramic coating appointment with Love's Auto Detail at 808-628-0134, or you can reach us at 2045 lauwiliwili st. Building 4 Kapolei HI, 96707! Book an appointment now!