THE BEST CERAMIC COATING IN HAWAII? - LOVE'S AUTO DETAIL IS HERE WITH CERAMIC PRO!
Ceramic coatings are a type of paint protection that can be applied to your car's paint to give it an extra sacrificial layer against dirt, bird droppings, swirl marks, water spots, UV damage, acid rain, and other environmental factors. If you want to know more about ceramic coating or how this could benefit you, reach out today! Ceramic Coating in Kapolei, HI!
CHOOSE THE BEST CERAMIC COATING FOR YOUR CAR - CERAMIC PRO HAWAII
It is important to protect your car from the elements, especially when you are paying for unnecessary repairs and your paintwork is looking faded and aged. That's why a good ceramic car coating enhances the reflective properties of your car's paint and repels water. After a ceramic coating service by the crew at Love's Auto Detailing, you will be blown away by the results.
The Gold Standard for permanent surface protection, this ceramic coating has the best result for our clients in terms of looks and protection. The ceramic pro package covers all painted surfaces as well as glass and wheels to ensure your car lasts you a lifetime!
With a lifetime warranty backed by the manufacturer, Ceramic Pro, this product will keep your car cleaner than ever before. Its surfaces will be hydrophobic and the paint UV protected to prevent fading from the sun, while also having self-cleaning abilities meaning – no more waxing and less frequent cleaning!! Plus with its incredible gloss and chemical resistance, you'll be able to drive around safely, knowing your paint is protected for years.
The ceramic coating Silver package is a combination of Ceramic Pro coating products designed to last you up to 5 years. It covers all painted surfaces, as well as glass wheels and exterior plastics & trims – keeping your car cleaner than ever before with incredible hydrophobicity and UV protection with enhanced self-cleaning capabilities.
Our ceramic coating Bronze exterior coating package offers incredible protection for your car at an entry-level price point. The ceramic coating will cover all the paint, as well as glass wheels and exterior plastics & trims; it comes with a manufacturer-backed two-year warranty that guarantees durability while keeping your vehicle cleaner than ever before!
This coating package is one of our most comprehensive ceramic coating packages. It offers total exterior coverage, but there are no additional interior coatings included in the deal – so be sure to contact us if you want maximum additional protection throughout your entire vehicle! You'll also need professional detailing before applying this product for best results and success during the installation process too. 
This package is our most comprehensive ceramic coating package available. It provides total exterior coverage, but does not include any interior or added layers of 9H ceramic coating for extra protection.
This ceramic coating package is the perfect way to maximize your vehicle's beauty. Not only does it offer total protection, but with the added gloss you will get a lot of compliments on your vehicle!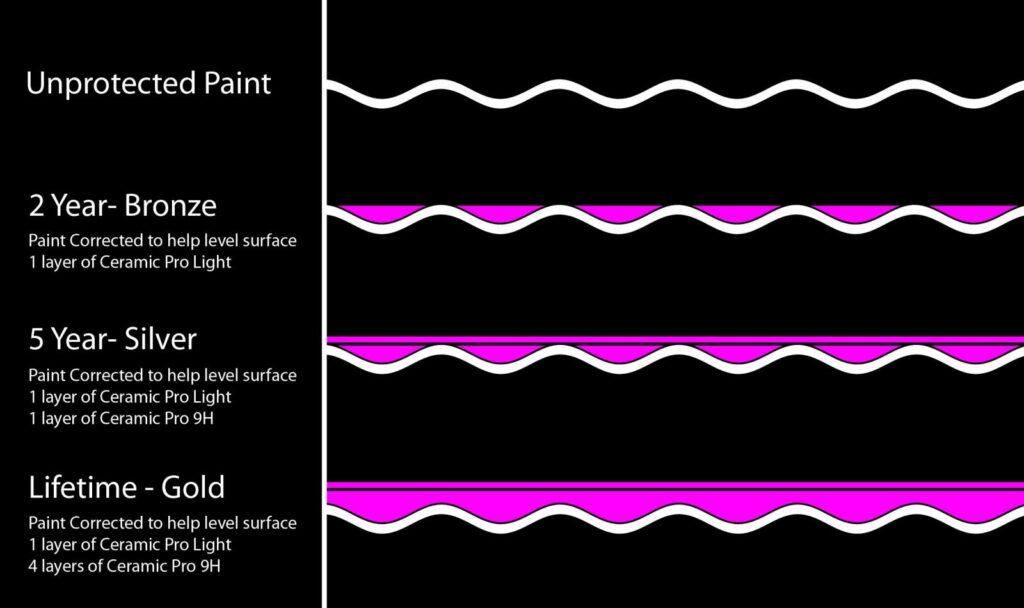 CERAMIC PRO TIME CAPSULE
Checkout Details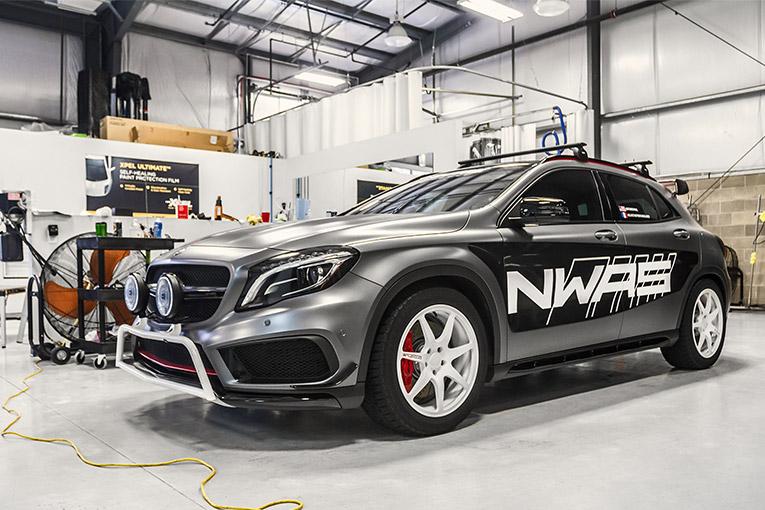 Have you ever wondered what it's like to climb in a 50-year-old car that feels like new? Do you often wish you could store your car in a climate-controlled, air-tight cocoon, where it would never need to be cleaned again & preserved for years to come? Can you imagine what it would be like to own the type of car that fellow automotive enthusiasts refer to as a "time capsule?" If you answered "yes" to any of the previous questions, or even just found yourself intrigued by the notion of never cleaning your car again, our Ceramic Pro Time Capsule package might be just what you're looking for. 
The Time Capsule treatment is an all-inclusive coating service that combines every one of Ceramic Pro's revolutionary products into the most comprehensive surface protection package around. Since the Time Capsule includes a little bit of everything, it comes with an incredible value: by administering every treatment in one go, you can save up to an additional $450! Don't let your new or used vehicle end up looking like a barn find; get your Time Capsule coating package & be detail-free with the least amount of maintenance for as long as possible.
Our most comprehensive ceramic coating packages are now available. Before your vehicle can be eligible for a time capsule treatment, we will require exterior and interior detailing to take place before installation.
PROTECTING EXTERIOR AND INTERIOR OF YOUR VEHICLE WITH CERAMIC PRO
Ceramic Pro Sport
Super Hydrophobic Coating for all types of Surfaces!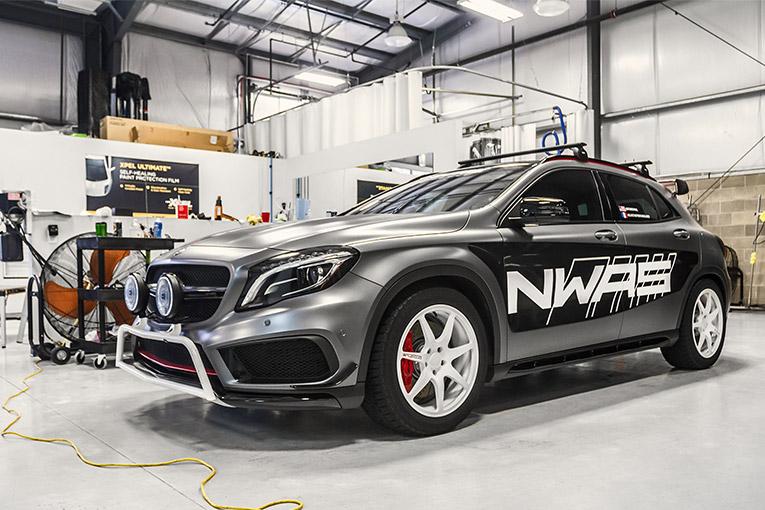 We'll make sure to give your car that individual touch by giving it a long-lasting ceramic coating in Honolulu HI. We require all ceramic coating packages to undergo exterior detailing but don't worry because we take care of that in each package.
CERAMIC PRO INTERIOR PACKAGE
Checkout Details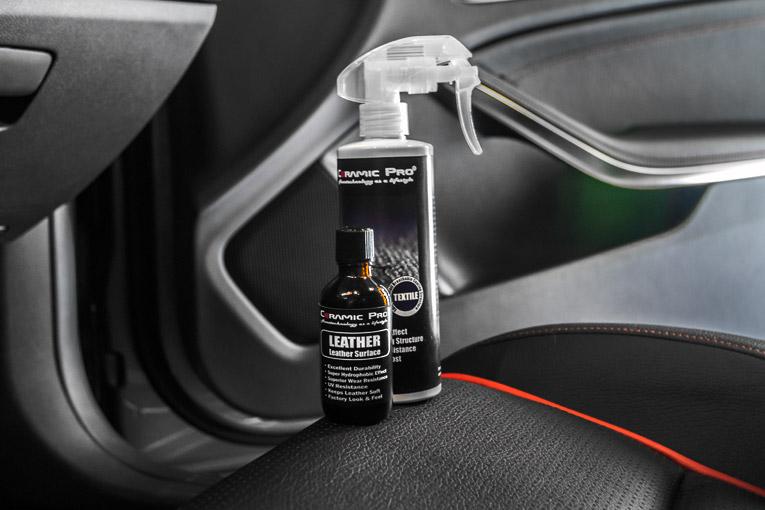 Ceramic Pro's interior coating package is specifically formulated to protect your car's interior while minimizing damage from UV rays and improving the look of worn and aged materials, particularly leather. The Ceramic Coating Interior Package covers every surface inside your vehicle treating leather, textiles plastics rubbers fabrics. We recommend having an interior detail done first to get any dust or dirt off your carpets and stains removed from the seats, a clean interior is a healthy interior for your family!
This package pertains strictly to interior protection. If you want to maximize coverage on both the interior & the exterior alike, please contact us with more information about the areas of concern, and we will advise you with the optimum Ceramic Pro solution. We require interior detailing to be performed prior to installation of Ceramic Pro coating products. Get in touch & come by for a consultation today!
CERAMIC PRO RAIN
Checkout Details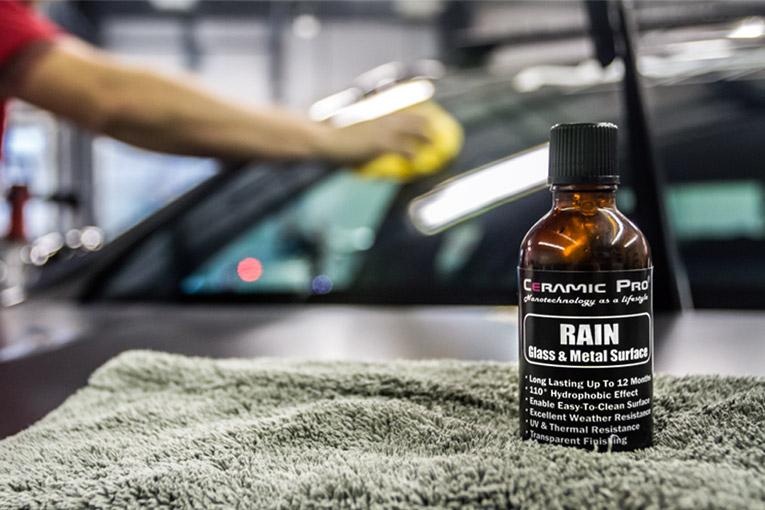 The Ceramic coating Rain is a powerful hydrophobic glass and window treatment that will keep your windows cleaner and clearer than ever before. This technology helps improve visibility from all angles with its strong ability to repel dirt, mud, and repel water, ensuring a clearer and safer driving experience.
This Ceramic Pro coating pertains strictly to glass surfaces. If you want to maximize coverage on both the interior & the exterior alike, please contact us with more information about the areas of concern, and we will advise you with the optimum Ceramic Pro solution. We require basic window cleaning to be performed prior to an installation of Ceramic Pro Rain glass coating. Get in touch & come by for a consultation today!
CHOOSE THE BEST
SYSTEM X CERAMIC COATING FOR YOUR CAR
System X Ceramic Coating is a revolutionary, cutting-edge protective solution designed to enhance and safeguard various surfaces. Using advanced nanotechnology, System X creates a durable and transparent ceramic layer that bonds permanently with the surface, providing unmatched protection against environmental contaminants, UV rays, scratches, and oxidation. Whether applied on automotive paintwork, marine vessels, or household surfaces, this innovative coating forms a hydrophobic barrier, repelling water and dirt to keep the exterior cleaner and easier to maintain. 
*All packages include single-stage paint enhancement and paint decontamination (clay bar). Water spot removal is not included. 
Ceramic Coating vs Paint Protection Film
Many people ask us, should they do a Ceramic Coating package or should they consider Paint Protection Film. 
Whilst both products are a form of paint protection, the majority of our clients prefer to take the Ceramic Pro, Ceramic Coating option. 
Ceramic Coatings provide superior environmental protection against the elements than Paint Protection Film, whilst PPF will protect against those slow moving collisions, they do not offer the same level of gloss, shine or water repellency that our coatings do.
Why use Ceramic Pro vs all other Ceramic Coatings?
Ceramic Pro is a durable, long-lasting paint protection coating that can be applied by professionals like us at Love's Auto Detail in Pearl City, Honolulu. We've been in the industry for years and know how to give your vehicle an exquisite shine!
Ceramic Pro is a revolutionary product that has been around for years, the pioneers of ceramic coating. Our ceramic coatings chemically bonds with the vehicle's paintwork, creating an impenetrable layer of protection. Advanced nanotechnology adds hydrophobic properties to make it easier for you to clean your car by repelling water droplets and dirt particles while also preventing staining caused by UV rays, acid rain, bird droppings, etc!
We are a leader in paint protection and we have been providing quality detailing and ceramic coating services in Kahala, Hawaii for years. We are certified and trained experts at coating installation, so you can rest assured knowing your investment will be cared for with our service and ceramic coating products!
Love's Auto Detail and Ceramic Pro offer several awesome ceramic coating packages in Ewa Beach, HI. Our Bronze Package has a 2-year warranty while our Silver package provides you with 5 years and the Gold lifetime guarantee on all cars we protect!
Finally, stop searching because we have what it takes to keep your vehicle looking good as new so come see us today at Love's Auto Detail to discuss your detailing and protection needs.
Permanent protection
Ceramic Pro is not like a nano paint protection, traditional waxes, or sealants that will wash away over time. It's an innovative clear nano-ceramic coating that forms a permanent bond with your car's paint and can only be removed through abrasion–no chemical ingredients can damage it!
Hardness above 9H 
The glass coat will protect your paint a lot longer than waxes and sealants. The mineral's hardness, ceramic pro 9H is the highest on this scale used to determine it in the coating industry- meaning that if maintained correctly you can enjoy a lifetime of protection.
Chemical Resistance 
The coating on this car will protect it from harsh chemicals and environmental damage. It's resistant to all the harmful things that could happen when it gets hit by hard water causing waterspots, so you'll never need to worry about your ride being damaged again!
Oxidation and Corrosion Resistant
With Ceramic Pro, you can protect the metal and paint on your vehicle without compromising its shine.
A professional showroom-quality protection with advanced ceramic technology that goes beyond just protection; it's also designed to maintain daily driving comfort by enhancing surface gloss for long-term durability in any environment, particularly here in Hawaii.
Temperature resistance
The coating will not be damaged under 1400 Fahrenheit.
UV protection
With the help of UV protection, special chemicals in ceramic pro's products help to keep paint from fading and aging.
Super Gloss
The high gloss shine from this ceramic coating is not comparable to any other product on the market. 
Super Hydrophobic
Your car will actively repel water and dirt, particularly when it is raining heavily, the view for the driver will be clearer and safer.